A Bright Red Scream
Marilee Strong
Buy from amazon.com Buy from amazon.co.uk
Synopsis
An investigation of why so many people deliberately hurt themselves and what can be done to help them. The illness "outed" on a global scale when Princess Diana admitted hurting herself deliberately, and continues to be practised mainly by middle-class women who start in their teens and self-harm throughout their lives. Most cutters are women who have been emotionally, sexually or physically abused as children, but Marilee Strong's research shows that self-mutilation also appears in other groups. There are powerful first-person stories, in which cutters describe their ritualistic methods and somewhat addictive cravings for seeing their own blood. Though research is in its infancy, therapists say there are now promising treatments — from medication to intensive psychotherapy — for the millions of "cutters". Strong reveals what the afflicted and those close to them can do to start a process of healing.
From the Cover
They are people who deliberately cut their skin, burn themselves, and break their own bones. They do it systematically for many years, and without help, they can rarely stop. Many have lived through severe forms of emotional or physical childhood abuse. The pain they feel is mute — their only cry "a bright red scream".
They call themselves "cutters," and this book is their story.
Self-mutilation is a behavior so shocking that it is almost never discussed. Yet estimates are that more than two million Americans are chronic self-injurers and one recent study suggests that as many as one in eight young people have deliberately harmed themselves at some point in their lives. When the late Princess Diana admitted in an extraordinary television interview that she had been a cutter, millions of people around the globe finally realized that they were not alone in their suffering. In A Bright Red Scream, women and men, young and old, eloquently explain the reasons they hurt themselves, the relief it sometimes brings them, and why they feel they cannot stop.
In A Bright Red Scream, Marilee Strong explores the myths and stereotypes that have led many therapists to misdiagnose and mistreat cutters as failed suicides and masochists. Through interviews with dozens of psychiatrists, doctors, researchers, clinicians, and cutters, Strong explains how cutting can become a powerful coping mechanism for dealing with overwhelming emotional pain and gaining control over an out-of-control mind and body. She presents startling new biological research — including evidence of profound changes in brain chemistry and structure as a result of exposure to childhood trauma — that may explain why cutting is even more difficult to give up than alcohol or drug addictions or eating disorders. Finally, Strong includes information on what people with the affliction and those close to them can do to start the process of healing.
Grounded in science and filled with human stories, A Bright Red Scream, like the pioneering works on incest of the 1970s and eating disorders in the 1980s, is destined to become a classic and will change the way we think about this condition, which has been called the "addiction of the nineties."
About the Author
Marilee Strong, an award-winning journalist known for her groundbreaking 1993 article on self-mutilation, is the recipient of a Pulitzer Fellowship for her work on childhood victims of war trauma. Her articles have been published in newspapers and magazines ranging from New York Newsday and the Atlanta Constitution to San Francisco Focus magazine, where she was a senior writer. She lives in Oakland, California.
Amazon.com Review
"A bright red scream" is how one of the subjects Marilee Strong interviews in this chilling yet compassionate study of self-mutilation describes the sensation of intentionally inflicting pain upon oneself. It is a compulsion that, while shocking and bewildering to most people, affects 2 million or more Americans and countless others around the globe–one of whom, the late Princess Diana, also suffered from the eating disorders that characterize between 35 to 80 percent of all cutters. Rejecting the classic psychiatric wisdom that views self-mutilation as a species of suicidal behavior, Strong links the phenomenon instead to the will to live — often in the face of such overwhelming childhood abuse that the resulting dissociative behaviors are something akin to posttraumatic stress disorder. Strong touches on other issues as well: Why are most cutters women? And is the current fascination with tattooing and piercing, from its most extreme forms in the "alternative" culture to its growing mainstream acceptance, a sublimation of the cutters' instinct? Through interviews with more than 50 self-injurers, Strong tells the moving story not only of their rage and self-punishment, but also of the courageous journey towards reintegration. (The book also contains an introduction by psychiatrist Armando R. Favazza, author of Bodies Under Seige, one of the leading clinical experts on self-mutilation.)
Further Reading
Author's website. Be sure to read: The Secret Language of Cutting and Princess Diana A Cutter.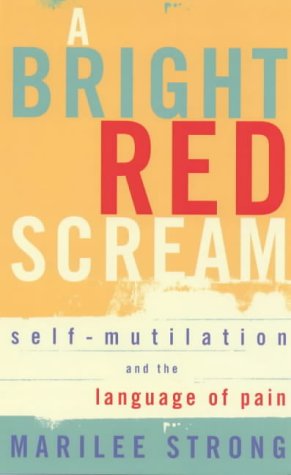 Cover of the hardcover edition
Comments
I just finished "A bright red scream" by Marilee Strong. I have just started therapy for self injury and this book helped not only me but my therapist also.
Dorothy Cain